This has been a really busy week but I just wanted to post a few quick projects.
I was inspired by the always inspiring Flamingotoes to make an Anthro knock-off bracelet. Her tutorials are clear, concise, and easy to follow. I made her Willy-Nilly Bracelet found
here
.
I have recently been fascinated with fascinators so I offered to make one for Halloween for my DD. I covered a small hat form with a remnant of black peau de soi as a base. Then I sewed feathers on part and sequins and beads on the rest. I played with the netting until I liked it. The glittered spiders came from Michaels. I really enjoyed the beading.
I finally finished knitting this bag. I wanted to learn how to cable and this bag was a very good exercise. The pattern can be found
here.
I am linking this post to
and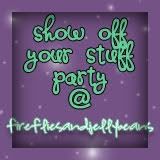 Thanks for looking and I love reading your comments.