McCalls 5803 is no longer available but I continue to use this pattern with great results. It is a Hillary Duff pattern. She is not my favourite singer or actress but I always liked her designs for McCalls. She can't be too bad , she married a Canadian hockey player. I have most of her patterns and have made them many times. I made this skirt for my daughter to take to New York City.
The beautiful fabric is by Amy Butler. The pattern calls for 60 inch wide fabric. To make the skirt with only 45 inch wide fabric I bought 2 metres. I cut it into three pieces roughly the length of the skirt. I matched and pieced the fabric into one long strip then cut out the skirt. The skirt has pleats and inseam pockets.
This skirt is a little wrinkled but I made this one last year from John Deere panels.
It is cute and funky.
My daughter also needed a slip to wear under her cotton dresses. I made this with one seam in the back.
I embroidered a large motif in the front and trimmed the slip with lace.
Partying at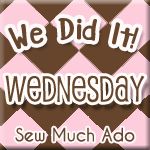 y" target="_blank">