After many, many years of schooling, and sending kids off to school, I have come to feel that September starts the new year not January. This is the time I feel full of hope and promise and change. September is when I make my new year's resolutions.
That said, I am old enough to know that to keep those resolutions I need to have structure, accountability, and deadlines.
So I have joined some groups for a little help.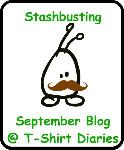 Once again, I have joined Robin's Stash busting September. I have promised to not buy anything new and to use what I have to complete some projects. I have to make at least one re-purposed item.
To start off the busting I made two tea towels that reduce my fabric stash, use embroidery designs I already have, and will brighten my home.
Kim, please note the use of bias tape to bind the top of the towel.
I have joined Reba's Molly Sew-a-long to make a purse from fabric I already own. She is offering a free pattern with a sign up to her email list. The pattern and the blog give very detailed instructions. So far, I am up to date with that.
I am using denim as the bottom, some home dec sample swatches as the top and ruffle, and 1970's Laura Ashley cotton for the lining.
Yes, I bought this $40.00 ruffler foot at a thrift store for $5.00. They had no idea what it was. But I did.
And yes, in the past for another machine I DID pay $40.00 for a ruffler foot.
Back in April, I joined the Sew Weekly Sewing Circle but never participated in any challenges. This week's challenge is to work with dyes, fabric paints or markers. I have had some ideas floating in the empty fields in my head. I want to do this challenge.
Lastly, I invited out of town family members for dinner for October 1. That's my deadline to have my house clean and decorated for fall, bathroom renovation done, my grandmother's chair re-upholstered, something nice to wear that fits, and just for fun, let's throw in world peace too!
Well I'm off to make my lists and organize myself.
Thanks for dropping by. I appreciate all your comments.
Even though I will be working hard I will still have time to party!